Austria
Things to Know
Republic of Austria
Federal Republic
Capital: Vienna
Vienna is situated in the East of Austria away from the Alps.
Austria is a pipe-shaped, landlocked country in Europe.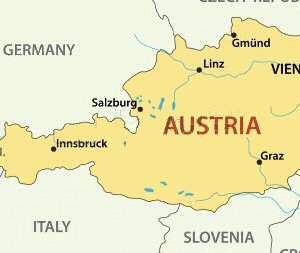 Official Language: German
Currency: Euro
The Hapsburg dynasty dominated central Europe for close to 700 years from the 13th to the 20th century.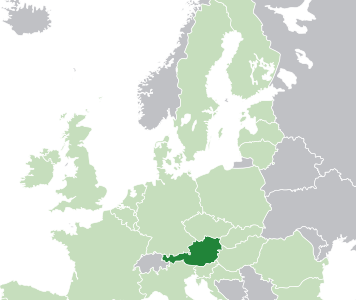 Animals
>Lippizaner (Lipizzaner)
Pure white horse, named after its place of origin in Lippiza, Slovenia. They are trained at the Spanish Riding School of Vienna.
Ibex (a mountain goat with huge curved horns) and chamois (horned goat antelope related to goats but having antelope-like features).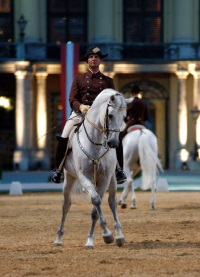 Lipizzan Stallion, Schönbrunn Palace
Climate
Cold winters with frequent rain in lowlands and snow in the mountains; cool summers with occasional showers.
Land
The two best known features of the Austrian landscape are the Alps and the Danube River. In the west and south is mostly mountains (Alps); along the eastern and northern margins is mostly flat or gently sloping land. The Alps cover 62 percent of Austria's total area.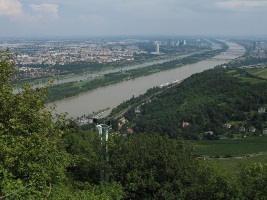 The Danube river in Vienna
The Danube River is the second longest river in Europe (The Volga River in Russia is the longest river in Europe). The Danube River has its source in southwestern Germany and flows through Austria before emptying into the Black Sea. It is the only major European river that flows from west to east. The Danube River's importance as an inland waterway was enhanced by the completion in 1992 of the Rhine-Main-Danube Canal in Bavaria, which connects the Rhine and Main rivers with the Danube and makes possible barge traffic from the North Sea to the Black Sea.
Plants
Nearly half of Austria is forested, mainly with oak and beech at low altitudes; at higher elevations conifers predominate. Trees yield to Alpine meadows at just over 2000m and orchids, edelweiss and poppies become quite common.
Music
Austria has sometimes been called "the land of music."
Sängerknaben--World fame as the Vienna Boys' Choir.
Composer Franz Joseph Haydn - Regarded as the father of the symphony.
Johann Strauss the Younger is known as the Waltz King because of the many waltzes he wrote. Visit the Waltz History page to hear the famous Strauss waltz, "The Blue Danube," and other Strauss music.
Wolfgang Amadeus Mozart (1756–91), a native of Salzburg, is considered one of the world's greatest composers.
Twinkle Twinkle Little Star, Baa, Baa, Black Sheep, and The Alphabet Song all share the same tune from an old French melody titled "Ah! Vous Dirai-Je, Maman" ("Shall I tell you, Mother?"). Mozart composed a set of 12 improvisations on "Ah! Vous Dirai-Je, Maman. The words to the song are from an early nineteenth-centry English poem, "The Star" written by Jane Taylor."Twinkle, Twinkle, Little Star" words.
Introduction to Music Unit for grades 3-5. On Variations on "Ah vous dirai-je, maman" by Wolfgang Amadeus Mozart
Great Composers - Mozart's Life. Includes a 32 page Let's Go Mozart! Teacher Resource Kit available for download as a pdf.
Biography on Mozart for children (read online)
Artist - Klimt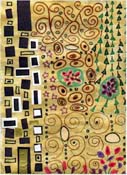 Building a Klimt
Children follow called out directions to create a picture in Gustav Klimt patterns. NOTE: Some of Gustav Klimt's works may not be suitable for young children be sure to review any of his works before showing to children.

Tree of Life-Klimt
Picture done in layers in the style of Gustav Klimt's Tree of Life painted in 1909.
Sites to See
Recipes. Austria is famous for its cakes and pastries.
Fun Facts
History of PEZ
PEZ was created in 1927 by Edward Haas in Vienna, Austria.
Austrians pronounce their country's name Österreich (Ost-rike), which means in German "kingdom of the east."
Share
Tweet
Click here to include your favorite Austrian activity in this theme!