Cinco de Mayo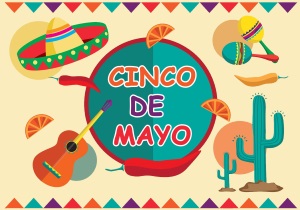 Cinco de Mayo means "fifth of May" in Spanish. It is a national holiday in Mexico.
Cinco de Mayo commemorates the Mexican army's unlikely victory over the French army on May 5, 1862, at the Battle of Puebla.
In the United States Cinco de Mayo is a celebration of Mexican culture, just as Saint Patrick's Day is a day to celebrate Irish culture.
Clothes
Wear red, green, and white (the colors of the Mexican flag).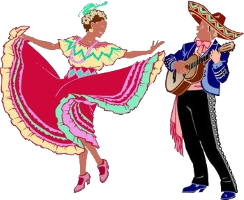 The Mexican clothing of choice worn during Cinco de Mayo is called the charro. It includes a hat called a sombrero and a sparkly jacket. Women may wear skirts with ruffles that fluff out during dancing.
Things to Do
Chocolate originated in Mexico. Make chocolate Mexicano. Melt 1 ounce of Mexican or other type of chocolate in 1 cup milk. If you do not have Mexican chocolate, add a pinch of ground cinnamon. Beat with an eggbeater until frothy.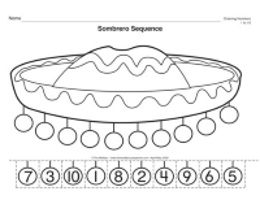 Sombrero Sequence Pre-1
See Also
Share
Tweet
Click here to include your favorite Cinco de Mayo activity in this theme!