Need: Felt pieces- 6 different colors, brown felt

Cut the six different felt pieces into houses- about 4-6 inches big(big enough to hide a mouse under). Cut the brown felt into a mouse.

Using a felt board hide the mouse under a colored house without the children seeing and have them guess the color the mouse is under. Have them say the names of the colors. Contributed by Natasha.
*Tips
Transition: Have children line up by the color that is called.

Primary colors are red, blue, yellow.
Secondary colors are made by mixing primary colors.
Secondary colors are purple, green, and orange.
Brown color word with rhyme coloring page worksheet.

Story activities and printables for "Brown Bear Brown Bear What Do You See?"
*Art
Black and White
Need: Various colors of items that are black and white.

Provide black and white paper, scissors, and glue, and invite children to use the materials to make collages. Later, add black and white markers, crayons, chalk, and/or paints. Encourage children to experiment with the strong contrasts of the colors. Consider creating a "Black and White" display by covering a bulletin board with black and white construction paper, then hanging children's creations.
*Math
Domino Trails
Need: dominos or blocks

Children can work in pairs. Ask them to experiment with lining up three or four blocks (like dominoes), so when they gently push the first one, all the blocks fall in succession. Encourage children to work and plan with their partners.
*Snack
Snack Ideas:

chocolate/vanilla cookies, milk, white bread, popcorn, marshmallows, raisins.
Blue color word with rhyme coloring page worksheet.
*Fingerplays/Songs
Finding Colors
tune: "The Muffin Man"

Oh, can you find the color blue,
The color blue, the color blue?
Oh, can you find the color blue,
Somewhere in this room?

I See Blue
(tune: Frere Jacques)

I see blue, I see blue.
Yes, I do. Yes, I do.
I see a blue block,
I see a blue crayon.
I see blue. Yes, I do.

Repeat, each time letting the children substitute the names of blue items that they see for "block" and "crayon."
*Art
Sponge Painting

Using sponge pieces, thick blue paint, and sheets of light blue paper. If desired, clothespins can be clipped on the sponges and used as handles. Have children dip the sponge into blue paint and print on light blue paper
*Learning Centers
Sensory Table
Blue Goop
Mix together blue food coloring, 1 cup cornstarch, and 1 cup of water
*Science
Blue Windows

Place blue colored cellophane or acetate sheets over some of the windows. It is fun to look out the windows and see a blue world

Just a Drop
Need: smocks, clear cups, blue food coloring

Provide clear cups and blue food coloring. Have the children add a drop of blue food coloring to the water. Watch as the water becomes a light blue. Add a few more drops of food coloring, observing as the blue water turns a darker shade.
*Group Time
Eye Color

Prepare an eye color chart with the children. On the chart list the colors: blue, brown, and green. Under each category, record the children's names who have that particular eye color. Extend the activitiy by adding the number of children with each color.

Bluebird, Bluebird
Need: 1 bluebird necklace made from yarn and construction paper.

The children stand in a circle and join hands. One child wears the bluebird necklace. The child who is the bluebird weaves in and out of the children's arms while the remainder of the children chant:

Bluebird, bluebird through my window
Bluebird, bluebird through my window
Bluebird, bluebird through my window
Who will be the next bluebird?

At this time the child takes off the necklace and hands it to a child he would like to be the next bluebird.
*Snacks
Cream Cheese and Crackers

Tint cream cheese blue with food coloring and spread on crackers.

Other Snack Ideas:

blue popcorn balls, blue milk(food coloring), blueberries.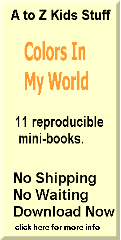 Green color word with rhyme coloring page worksheet

Green color word coloring page worksheet

Printable cute frog outline.
A new window will open.
*Art
Creating Green

Paint with Blue and Yellow paint to make the color Green!

Green Frogs

Make copies of the cute frog outline on yellow paper. Have the children use blue bingo markers to place dots on the frog. The frog will then magically turn green.
*Snack
Snack Ideas:
Lime gelatin, lime drink, lettuce, green grapes, celery, green peppers, pickles.

Green Drink
Need: lemonade and blue Kool-aid

Freeze blue Kool-aid in ice cube trays. Serve the children lemonade and add the blue ice cubes to the drink. As the ice cubes melt the lemonade will begin to turn blue.
Orange color word with rhyme coloring page worksheet
*Art
Creating Orange

Paint with red and yellow paint. As the children paint help them see how combining the two colors creates orange.

Paper Towel Magic
Need: red and yellow food coloring, small containers, paper towels.

Have children did a paper towel into red colored water and then into yellow colored water. Allow towel to dry. Mount on black construction paper.

Orange Book
Need: magazines and construction paper

Have children look through magazines and cut out pictures with orange in them. Children group all the orange pictures together and create an orange book by gluing their magazine pictures onto construction papers.

Contributed by: Symonsstreet
*Cooking
Orange Sipper
Need per child: 1/2 orange, drinking straw, a baggie

Place 1/2 orange in a baggie and squeeze out most of the air. Seal baggie and squeeze orange to get out juice. Open a corner slightly. Place straw inside and drink.

Orange Fluff

Pour 1/4 cup water into a bowl and add 2 envelopes unflavored gelatin. Stir and let set for 5 minutes. Add 3/4 cup boiling water and stir again until gelatin is dissolved. Pour mixture into a blender and add one 6-ounce can unsweetened frozen orange juice concentrate. Blend until fluffy, then pour into small cups. Chill for about 15 minutes. Makes 4 to 6 servings.

Orange Buttermilk Smoothie
Need: 1 quart buttermilk, 3 cups orange juice1/2 teaspoon cinnamon, 1/4 cup honey.

Blend in a blender until the mixture is smooth. Enjoy!

Other Snack Ideas:

carrots, orange juice, cheese crackers, orange slices, orange gelatin.
*Learning Centers
Orange Flags
Make orange flags for the sandtable.
Contributed by: Symonsstreet
*Science
Orange World
Cover a cardboard tube with a piece of orange cellophane for the children to look through and view an orange world. Contributed by: Symonsstreet
Purple color word with rhyme coloring page worksheet
*Art
Purple Playdough

Give the children a small ball of red and a small ball of blue playdough. After the children have played with it a time ask the children "Were did the purple playdough come from?"

Shades of Purple

Place shades of purple paint, from dark purple to lavender, at the easel.
*Learning Centers
Sensory Table

Purple Suds

Add red and blue food coloring to the water in the water table. Squirt some liquid detergent for terrific purple suds.

A fantastic theme for Spring and Summer! Expose the children to the color yellow through flowers and art masterpieces. Hands on activities, mini-books, and worksheets. Grade: Pre-K

_____________________________________________________________




Follow Us


---

| | | | |
| --- | --- | --- | --- |
| | | | |

Click here to include your favorite color activity in this theme!