Ireland


The flag of the Republic of Ireland frequently referred to as the Irish tricolor, is vertical tircolor of gree, white, and orange.
The Irish people are of Celtic origin.
Currency: Euro
Ethnic groups: Celtic, English
Languages: English is the language generally used, Irish (Gaelic) spoken mainly in areas located along the western seaboard.
Religions: Roman Catholic 91.6%, Church of Ireland 2.5%, other 5.9%
Ireland
Part of Western Europe, the Republic of Ireland occupies five-sixths of the island of Ireland in the North Atlantic Ocean. The other sixth is called Northern Ireland. Ireland is the continent's second largest island (after Great Britian).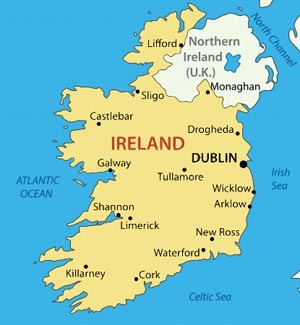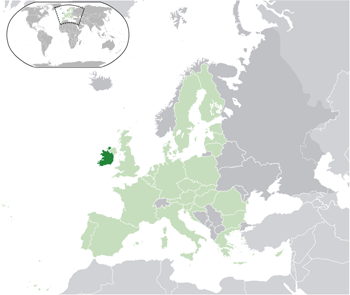 Land
Ireland's terrain is mostly level to rolling interior plain surrounded by rugged hills and low mountains; sea cliffs on west coast. The greater part of Ireland is covered by grassland or peat bogs. One of Ireland's most characteristic features is the bog. Covering 1,200,000 hectares (1/6th) of the island.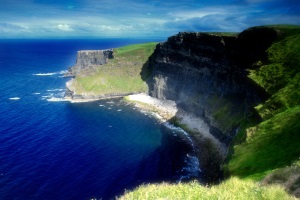 The Cliffs Of Moher
These majestic cliffs rise from the Atlantic Ocean to a height of nearly 200m.
Music
The Irish Harp has long been a national symbol.
Bodhrán
A frame drum usually made of goatskin.
The Unicorn
A Poem by Shel Silverstein, Recorded by the Irish Rovers
Recipes
Variety of Irish recipes.
Ireland is famous for oysters (Galway Bay Oysters), Dublin bay prawns, and Guinness.
Things To Do
Color Pages
Celtic Knots Printables
Celtic knots are decorative knots with alternating over-and-under construction.
Make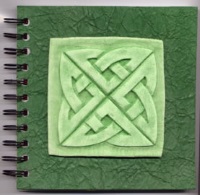 Ireland
Four crafts to make - School-age. (Celtic Mermaid, Potato Putty Celtic Journal, Bodhram (Drum) and Biddle (drumstick), and Illuminated Manuscript.)
Fun Facts
Blarney is celebrated the world over for a stone on the parapet that is said to endow whoever kisses it with the eternal gift of eloquence - the 'Gift of the Gab'
Blarney Castle
A short history of the castle and its legendary stone.
Is your name Irish? Look at the Guide to Irish names and find out.