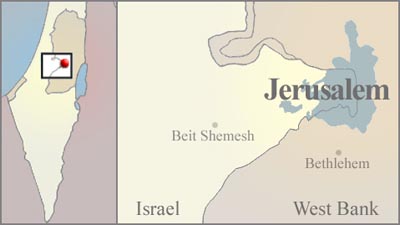 Jerusalem is located in the Judean Mountains between the Mediterranean Sea and the Dead Sea. It is surrounded on all sides by valleys. The east, west, and southern sides have steep valleys, those on the north are less pronounced.
Climate
Jerusalem's temperatures in the winter cold rainy season are generally in 50s F/11-14 C with snow often making an appearance. In the long, hot summer temperatures reach the mid 80s F/high 20s C. Jerusalem enjoys relatively low levels of humidity, making it easier to tolerate the heat.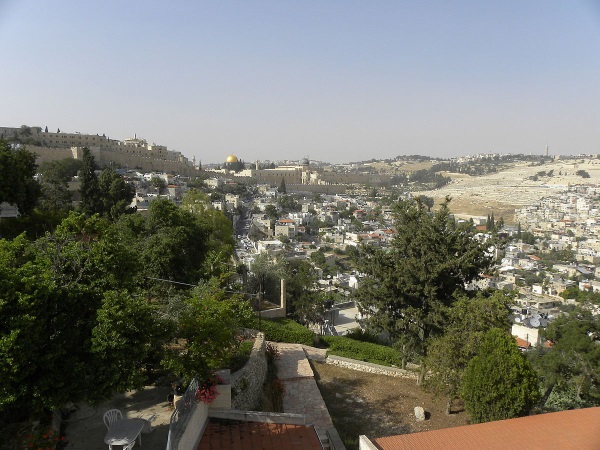 Animals
The National Botanical Gardens in Jerusalem
The University Botanical Garden of Jerusalem comprises more than six thousand plant species, which were brought to Israel from all over the world and are being preserved for the benefit and enjoyment of the public.
Tisch Family Zoological Gardens
Unofficially known as the Jerusalem Biblical Zoo. The zoological collection centers on two main themes: animals mentioned in the Bible and endangered species from around the world.
Jerusalem Holy Sites
The Western Wall (Wailing Wall)
On the western side of the Temple Mount is the last remains of the Second Temple and the most sacred Jewish site in the world.
Land
Jerusalem is divided into three sections, the Old City, East Jerusalem, and New City (West Jerusalem).
The Old City
The Old City covers roughly 220 acres (one square kilometer). with surrounding walls and a total of 11 gates, but only seven are open.
The walls seen today around the old City were built by the Ottoman Sultan Suleiman. Work began on the walls in 1537 and was completed in 1541.
There were other walls around Jerusalem. There was a wall built around the City of David. There was a Roman wall around the city. The wall around the Temple Mountt was built by Herod the Great around 19 BC. Throughout history different walls were built, showing the expansion of the city over time.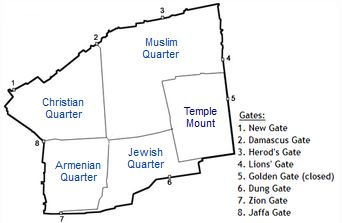 The Old City is a maze of narrow streets four ethic groups make up most of the Old City; Jewish, Christian, Armenian, and Muslim. The Old City is divided into four vaguely defined quarters. The Muslim quarter is the largest of the four. Within the Old City are most of Jerusalem's holy sites.
East Jerusalem
East Jerusalem is considered the modern Arab section and is primarily residential. It extends eastward. It is close to the West Bank.
New City
The New City, sometimes called West Jerusalem, is the principal Jewish section. Parts of the New City are more than a century old, the New City has been built up since the establishment of Israel in 1948. It has seen a lot of development with government buildings, educational institutions, museums, and residential areas. It extends westward of the Old City.