People
I Am An American
Author: Unknown
"I am an American."
That's the way that most of us put it, just matter-of-factly
They are plain words, those four;
you could write them on your thumbnail,
or you could sweep them clear across the bright autumn sky.
But remember, too, that they are more than words.
They are a way of life.
So, whenever you speak them,
speak them proudly, speak them gratefully.
"I am an American!"
Captian John Smith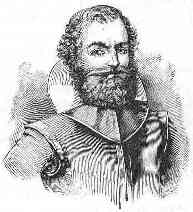 "He that will not work shall not eat."
- Captain John Smith
Explorer and leader of Jamestown, the first English colony in America to survive and become permanent. It was settled in 1603.
Benjamin Franklin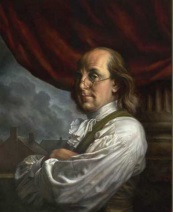 "Early to bed and early to rise makes a man healthy, wealthy and wise."
-Benjamin Franklin
Benjamin Franklin is one of the Founding fathers of the United States and signer of the Declaration of Independence. He was an accomplished inventer, publisher, statesman, and patriot.
He invented a lot of useful things such as bifocal glasses and the lightning rod.
He published Poor Richard's Almanac, one of the most popular publications in colonial America.
He helped keep France on the side of America during the Revolutionary War, and was also minister to France for many years. The French people embraced him and he became a national hero to them
Betsy Ross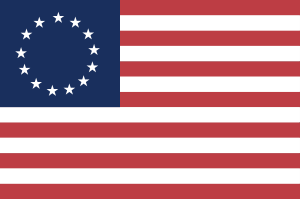 According to legend, Betsy Ross made the first American flag.
The USA flag, officially adopted by Congress on June 14, 1777, had thirteen stripes and thirteen stars (five pointed stars)
Visit Besty Ross's Homepage. Learn about the history of our United States Flag at this site! Take a virtual tour of Betsy's House!
Lewis and Clark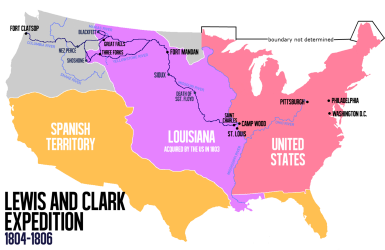 The Louisiana Purchase
In 1803 the nation of France, under the rule of Emperor Napoleon Bonaparte, sold 828,000 square miles (2,144,510 square km) of land west of the Mississippi River to the United States of America in a treaty known as the Louisiana Purchase. This treaty has been described as the "greatest real estate deal in history." President Thomas Jefferson more than doubled the size of the United States. The treaty was made in order to secure free navigation of the Mississippi River.
Meriwether Lewis and William Clark were the leaders of the expedition that would explore and chart the vast unknown terriorty west of the Mississippi River. Meriwether Lewis, hired his friend William Clark to help him, and put together the Corps of Discovery. Their job was to learn all they could about the new terriorty. The expedition began in 1804.
Sites to See
Lewis and Clark for Kids
Learn all about the journey, discoveries, people of the expedition, dangers, places, or, access any of my dozens of online or printable activities and games related to Lewis and Clark.
Social Studies for Kids -The Lewis and Clark Expedition
Go West Across America with Lewis and Clark

In this incredible adventure created by National Geographic you sign on as part of the crew and the adventure begins. Questions are asked, facts are given, and maps are here, too.
PBS has a section on Lewis and Clark: The Journey of the Corps of DiscoveryContains interesting articles and a classroom resources section. Most activities are for middle school-age children. Still a interesting site to visit.
Downloads
PBS Lewis and Clark Screensaver
Freeware Windows & Mac version
Follow the trail of the Corps of Discovery's epic trip on a U.S. map from St. Louis to the West coast. A series of photo images pops up, of scenery along their route.
Harriet Tubman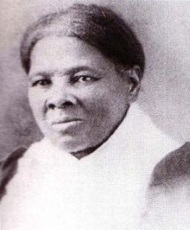 Born Araminta Ross; c. 1820 – March 10, 1913
Harriet Tubman was born a slave in Maryland. She escaped to the North with the help of the Underground Railroad. She would make the treacherous journey back, leading more than 300 slaves to freedom on the Underground Railroad. Harriet risked her life and was nicknamed "Moses" after the biblical Moses, who led the Hebrews out of slavery in Egypt.
"I had reasoned this out in my mind; there was one of two things I had a right to, liberty, or death; if I could not have one, I would have the other; for no man should take me alive; I should fight for my liberty as long as my strength lasted, and when the time came for me to go, the Lord would let them take me." Harriet Tubman to Sarah Bradford in Harriet, The Moses of Her People 1886
The U.S. Treasury Department in April, 2016 announced that Harriet Tubman will replace Andrew Jackson on front of the $20 bill. Jackson's image will remain on the $20 bill on the reverse side, which also showcases the White House.
Sites to See
Harriet Tubman - National Geographic
Harriet Tubman biography at Ducksters.
Harriet Tubman Background Information for Teachers and Parents
Follow the Stars
The American folksong "Follow the Drinking Gourd" was supposedly used by an Underground Railroad operative to encode escape instructions and an amazing map. The North Star (Polaris) was used to find north.